The actually running BITS project (Bicycles and Intelligent Transport Systems) was recently presented at the Living and Walking in Cities LWC Conference. In his talk research associate Johannes Schering of the VLBA department emphasized the importance of bicycle data for the further uptake of cycling in European cities. In the presentation of his research paper "The BITS Project – Making cycling data available and comparable on a European scale" Johannes presented new cycling Key Performance Indicators (KPIs) to make different cites comparable which were developed as part of the website Bicycle Data by the Bicycle Data student team. The hybrid event was hosted by the University of Brescia in Italy.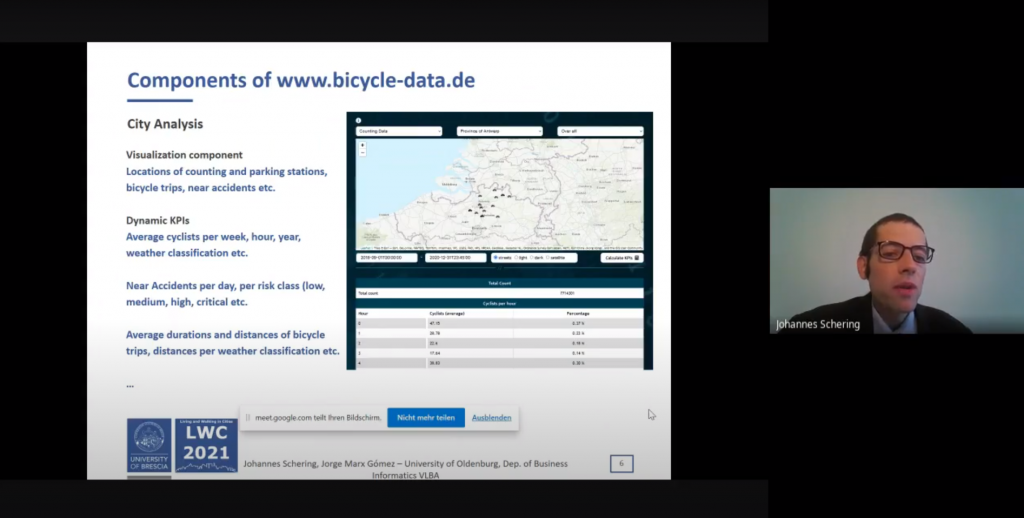 As part of the discussion in the interdisciplinary and international panel it became clear that the harmonization process of European cycling data is a huge challenge. There is no standardization regarding data structures or how to collect data what makes different regions hardly comparable. The research paper was presented as part of the session "Big Data, ITS, and MaaS" which was moderated by Benedetto Barabino from the host, the University of Brescia.
The LWC International Conference which was organized as a hybrid event as consequence of the pandemic traditionally deals with the topics of urban mobility and quality of life in urban areas, with a specific focus on vulnerable road users as pedestrians and cyclists. The LWC Conference allows researchers, experts, administrators, and practitioners to gather and discuss about policy issues, best practices, and research findings from different perspectives. In total, more than 220 authors from 21 countries contributed to the LWC conference. We are expressing our thanks to the organizers to present the BITS project and our research results.
Further information about the Living and Walking in Cities Conference can be found here: https://lwc.unibs.it/